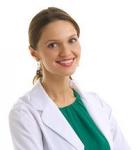 Izabella Wentz, dr. farm.


Dr. Izabella Wentz, doctor în farmacie și membră a Asociației Americane a Farmaciștilor, și-a manifestat pasiunea pentru serviciile medicale încă de la o vârstă foarte fragedă, fiind inspirată de mama ei, dr. Marta Nowosadzka. După ce, în 2009, a fost diagnosticată cu tiroidită Hashimoto, dr. Wentz a fost surprinsă de lipsa cunoștințelor legate de schimbările de stil de viață necesare în caz de tiroidită Hashimoto și alte afecțiuni autoimune. S-a hotărât să facă din asta o misiune personală, în încercarea de a se ajuta pe sine și pe alții cu aceeași afecțiune. Cartea sa Hashimoto's Thyroiditis: Lifestyle Interventions for Finding and Treating the Root Cause (Tiroidita Hashimoto: Cum să schimbăm stilul de viață ca să depistăm și să tratăm cauzele) este rezumatul a trei ani de cercetare și doi ani de testare.

În prezent, autoarea locuiește, alături de soțul ei Michael și de cățelul lor Boomer, în Chicago, unde și lucrează ca farmacist.

De la: Izabella Wentz, dr. farm.