Secretul: Învățături zilnice

» Coperta
Prin Secretul – Învățături zilnice, autoarea Secretului, Rhonda Byrne, te conduce către următorii pași vitali pe care trebuie să îi faci pentru a transpune în viață principiile Secretului.
Afișat de 24339 ori.






•Preț raft:
75.00 RON
•Reducere:
10%
•Preț site:
67.50 RON *

Contact
Descriere
FĂ PASUL URMĂTOR…
ÎNVĂȚĂTURILE ZILNICE SUNT ATEMPORALE. DE ACEEA, POȚI ÎNCEPE SĂ LE PRACTICI ÎN ORICE ZI DIN AN.
În întreaga lume, Secretul călăuzește milioane de oameni către viața visurilor lor. Acum, prin Secretul – Învățături zilnice, autoarea Secretului, Rhonda Byrne, te conduce către următorii pași vitali pe care trebuie să îi faci pentru a transpune în viață principiile Secretului.
Dacă vei pune în practică cele 365 de învățături noi care descriu marile principii ale Secretului, cunoștințele tale despre legea atracției vor ajunge la un nivel mult peste ceea ce-ți poți imagina. Mai multă bucurie, abundență și binecuvântări – în fiecare zi din viața ta.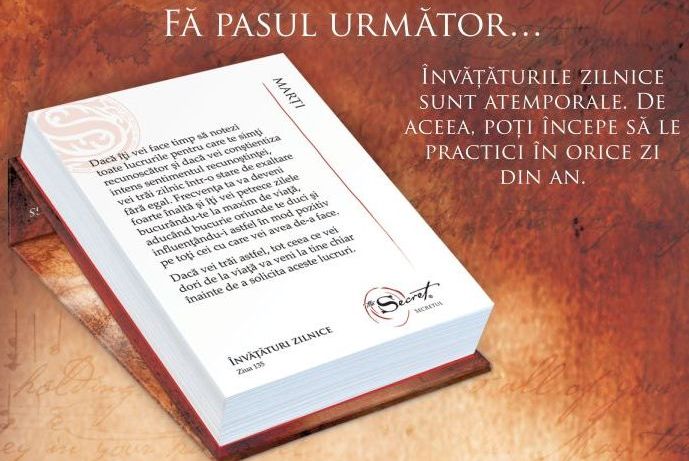 Caracteristici
Numărul de pagini: 368
Formatul în cm. (l x L x g): 11 x 14.6 x 4
I.S.B.N.: 978-606-8080-19-2
Traducerea din limba engleză: Cristian HANU
Titlul original: The Secret Daily Teachings
Greutate: 0.492 kg.
Link: www.thesecret.tv

A apărut în: 2010-09
Opiniile cititorilor [15]:
Avaloh:
POZITIVA si de FOLOS CARTEA!!! Daca citesti cate o invatatura pe zi, esti mai bun, mai fericit, mai bine dispus.
04.03.2016
Alin19:
Te înviorează și te umple de pozitivate. Chiar merită să fie purtată oriunde în geantă.
20.08.2014
Alin:
E excepțională cartea din ce am răsfoit. Abia aștept să o citesc pe toată.
17.08.2014
viorel:
Ceea ce nu înțeleg mulți este o lege sacră a Universului, și anume cea a iubirii datorită căreia poți intra în armonie cu Universul. Legea iubirii presupune iertare și a nu judeca pe ceilalți, și eu vă întreb: poți să îl ierți pe cel care ți-a distrus viața, care te exploatează, care îți ucide copilul sau îl abuzează? Pentru că așa spune Dumnezeu, să îți iubești cel mai aprig dușman ca sa poți evolua spiritual și să te împaci cu tine însuți, să nu mai trăiești în ura. Așa este, așa trebuie, nu e legea mea, e o lege Divina a Universului, a lui Dumnezeu.
12.12.2013
george :
secretul iertării constă în fapul că cel care inițiază procesul iertarii se autosalvează de la o viață interioară și exterioară de nedorit, proiectându-și astfel noua viață după cum gândește acum conștient că poate fi arhitectul propriei soarte... g. c.
Alexandru:
O carte excepțională, ce te îndrumă zi de zi, timp de un an, pe calea încrederii, a propășirii și a succesului. Sfaturi dintre cele mai alese în această carte. Recomand tuturor celor mohorâți sufletește, dar care își doresc să își schimbe starea în bine.
06.07.2012
Burlacu Andreea Lorena - CRP An 1 Grupa 1:
Este obligatoriu de purtat în geantă zilnic! Spun acest lucru pentru că atunci când ai un gând negativ, ești supărat sau poate te doare capul, aceste învățături îți schimbă complet starea de spirit, îți dau putere, credință în forțele proprii, te asigură că vei reuși. Eu citesc din ea în fiecare dimineață pentru a începe ziua cu gânduri bune și multă credință. O zi în care nu zâmbești este o zi pierdută!
19.01.2012
Alida:
O port cu mine mereu în geantă, cum am câteva minute libere recitesc pagini din ea; pentru mine este aur adevărat, mă ajută ca fiecare zi sa fie frumoasă și s-o construiesc așa cum îmi doresc.
07.11.2011
xyz:
cartea asta il poate ajuta pe un om al strazii sa faca rost de o casa, de o viata mai buna, ce zici? poate vindeca un alt om de SIDA, sa zicem? E MARE LUCRU SA FII PROST....
w:
răspuns pentru xyz:
Ca să vorbești despre prostie, mai întâi trebuie să știi ce e aia. Citește aici: http://www.elystar.ro/modules/news/article.php?storyid=998
Dana :
Am citit Secretul; este o carte nemaipomenită.
04.11.2011
Edgar:
Știi ce nu vă zice acest secret?? Nu vă zice faptul că pe lângă a crede, a gândi și a încerca să modifici orice aspect al vieții, trebuie să fii și făcut pentru asta. Trebuie să ai o legătură spirituală, trebuie să simți, de exemplu trebuie să știi că mama ta va muri peste 2 zile... Îs multe alte lucruri care, un om care simte, poate aplica secretul mult mai ușor decât un om normal, banal...
09.08.2011
Georgeta Voicu:
CITESTE si APLICA ! SCHIMBAREA incepe cu TINE !
gynavoicu@yahoo.com
xyz:
da, fii sigur, si marmota-nvelea ciocolata-n staniol...,
cristina herea:
o carte super!
06.04.2011
Alina :
Eu o citesc acum, în fiecare zi. E minunată! O recomand din suflet: o "pastiluț㔠de entuziasm zilnic. Super!
08.02.2011
geo:
The Master Key System - Sistemul Maestrului - Charles F. Haanel, este autorul care a influențat-o pe Rhonda Byrne, Napoleon Hill, liderii Amway etc. Simpla lectură nu va ajuta cu nimic, doar aplicarea principiilor redate, meditațiile și impresionarea minții subconștiente. BAFTĂ!
04.01.2011
Muresan Vlad:
E o carte care îți arată cum poți avea totul. O recomand tuturor fără nicio problemă; merită fiecare leuț!
12.12.2010
golf:
Atentie la ce va doriti. Eu mi-am dorit o anumita marca de masina, am aplicat ce stiam din \"secretul\" dar am vizualizat doar culoarea si rezultatul a fost intradevar ca in 3 luni aveam o masina noua de culoarea dorita dar....alta marca.
ecaterina:
Am văzut filmul The Secret în engleză, fascinant. Am învățat multe lucruri interesante. Aș dori să citesc și cartea.
19.11.2010
anderi gabi:
Cartea am citit-o în italiană, e super, dar aș vrea să o citesc și în română.
13.11.2010
Theta Healing
Înalță-te și caută-L pe Dumnezeu. Înalță-te și lucrează cu Dumnezeu

Codul emoțiilor
Cum îți poți elimina emoțiile nerezolvate captive pentru a te bucura de o sănătate perfectă, de iubire și de fericire

Vrăjitoarea verde
Ghidul complet al magiei naturale bazate pe plante medicinale, flori, uleiuri esențiale și multe altele
| | | | |
| --- | --- | --- | --- |
| | Cele mai noi 7 articole la colecția Secretul | | |
Cele mai noi cărți ADEVĂR DIVIN
Noutăți pe site
Retipăriri